MAXI/GUARD® Pinkeye Bacterin
MAXI/GUARD® Pinkeye Bacterin – A safe, killed, and highly efficacious (over 90% effective) Moraxella bovis bacterin for the prevention and control of pinkeye (Infectious Bovine Keratoconjunctivitis) in healthy cattle. MAXI/GUARD Pinkeye Bacterin is very low in free endotoxin, easily syringable and free of injection site lesions.
Dosage – 2 ml subcutaneously. Packaged in 50 dose and 10 dose bottles.
MAXI/GUARD Pinkeye Bacterin is available in the United States and Canada.
How Does it Work?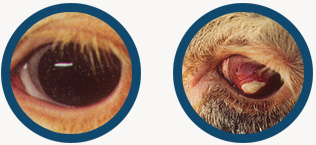 Pinkeye is prevented by management to eliminate or reduce exposure to as many predisposing factors as possible and the use of a good vaccination program. Also, vaccination during an outbreak has merit for pinkeye disease control.
Usage – Prevention
Administer a 2ml dose subcutaneously to cattle 2 months of age or older.
You should receive protection for an entire season. You should booster 1 dose the next year.
Usage – During Outbreak
Many veterinarians anecdotally report that it is "not too late to vaccinate".  Reports suggest that you can shorten the duration of the disease, shorten the corneal healing interval, reduce the size of the scar and help prevent subsequent spread in the herd.
Safety
MAXI/GUARD Pinkeye bacterin offers the lowest free endotoxin level of all commercial pinkeye vaccines. It is recognized for its strong safety record and lack of injection site reactions.
Tolerability
Low endotoxin levels mean very low probability for endotoxic shock reactions. MAXI/GUARD Pinkeye bacterin is considered an extremely safe pinkeye commercial bacterin.
Where do cattle get the pinkeye disease organism?
The introduction of new cattle into a herd can introduce the organism, M. bovis. However, this organism is often found as part of the resident bacterial population in a herd. M. bovis can reside in the eyes and upper respiratory tract and not cause disease until predisposing factors are present. Some of these factors include face flies, over exposure to sunlight, dusty conditions, and unkept pastures (tall weeds).
What if I have a Moraxella bovoculi problem?
Click here for our new Moraxella bovoculi Bacterin product information.
Please visit our diagnostics page to learn about further options available to you in treating pinkeye.
Testimonials
"Over the last ten years, our practice has used four different commercial vaccines. Of these vaccines we have found MAXI/GUARD Pinkeye bacterin to give the best results in terms of efficacy, safety, and ease of administration. This vaccine, when combined with reasonably good management, will achieve well over 95% protection."
KV, DVM
"I have been very pleased with the results of MAXI/GUARD vaccine this year. It is the only one I will recommend. Thank you for your quality product."
DEG, DVM
"I manage a Polled Hereford herd with about 200 breed cows. We have used your vaccine on them and their calves and have had no pinkeye in the last 2 years…Thanks for saving us the job of getting cows up in the middle of the summer (not the best time to chase cows around)."
RS, Producer
"We feel MAXI/GUARD has given us the best protection from clinical pinkeye of any vaccine we have used. Additional pluses of this product are its syringeability and lack of noticeable injection site reactions."
KRL, DVM
"I would like to report that I feel your product does work effectively in the control of pinkeye. The efficaciousness of your product, MAXI/GUARD, is a welcome change."
JRG, Producer
"At the time of inoculation, 158 head of our cattle actually had pinkeye and I wanted to report to you that all of the 158 head completely recovered…and no new cases were observed after vaccination. I thought you might appreciate knowing just how successful your product really is."
GEF, Producer
---